3 Reasons to go to Battle Creek's Cereal Festival Reasons to go to Battle Creek's Cereal Festival For many people, cereal is their breakfast of choice. It is a quick and easy meal that is perfect for anyone too busy to make a traditional "bacon and eggs" breakfast. But then again, cereal has become a traditional breakfast in American culture. We all have a favorite cereal wh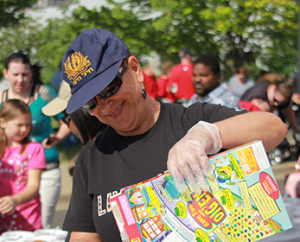 ether it is Frosted Flakes, Rice Krispies, Fruity Pebbles or one of the many other kinds. Each one of us has our "traditional" brand of cereal. Growing up in Battle Creek, I was surrounded by cereal. It is hard not to be when you live in a city that thrives on the cereal industry. Cereal was invented here and has stayed here since its invention by the Kellogg brothers in 1894. The Kellogg Company, Post and Ralston are still located in the city and on a good day, you can smell the sweet scent of cereal being made.
Every June, Battle Creek hosts the Cereal Festival to celebrate the city's rich breakfast history. This year's celebration is June 13 & 14. It is a celebration the city has been hosting on and off for more than 50 years. Here are 3 reasons why you should come to The Battle Creek Cereal Festival:
1)   It has the World's Longest Breakfast Table
The Cereal Festival started in 1956 as a way to commemorate the Kellogg Company's 50th year of business. With this, the World's Longest Breakfast Table was created. The table spread all the way down Michigan Avenue in Downtown Battle Creek. Over 15,000 volunteers  served cereal to festival goers
[caption id="attachment_3407" align="alignright" width="195"]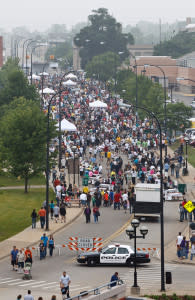 The World's Longest Breakfast Table in Battle Creek, MI[/caption]
Today, the tables are not connected but are spread out one-by-one down Michigan Avenue. There are cereal stations set up and down the street with all different kinds of cereals to choose from. Volunteers from Kellogg, Post and Ralston staff each station, along with community members. Visitors can try as many bowls of cereal as they want for free. Cereal, milk, juice and Pop Tarts are served from 8am to 2pm but get there early for the best selection.
2) Tony the Tiger makes an appearance
Every year Tony and his character friends, including Toucan Sam and Sugar Bear, always make an appearance. The face of Frosted Flakes is an iconic figure in cereal history and always a kid favorite. Getting your picture with Tony is a festival tradition.
3)   It is more than just the Breakfast
Besides just the breakfast, every year there is a parade the night before, the Cereal City Classic 5k/10k race, local vendors, live music, and a car show.
The parade kicks off the festival on Friday at 6pm and goes through the heart of downtown. The Cereal City Classic Race is Saturday morning at 8:15 and uses Battle Creek's beautiful Linear Path.  Local vendors, live music and the car show keep you entertained after you are finished with your tradition Battle Creek breakfast.
The Cereal Festival is not just a Battle Creek festival. It is young and old celebrating the breakfast that brings people together, it is the three companies coming together to celebrate the food that made them famous, and it is a community celebrating an American tradition.
Come down to Battle Creek and see what the cereal tradition is all about!
(This blog was also published on Pure Michigan's blog)