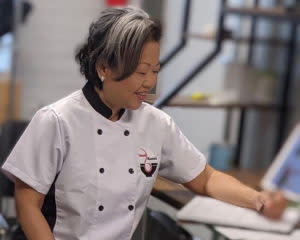 Peecoon Allen started selling noodles at the farmers market and her business has thrived since then.
Now located in a newly renovated building with chic decor, Umami Ramen is as stylish as it is tasty.
Make your own noodle bowl by picking what elements go into it, like rich tonkatsu broth, delicate rice noodles and spicy kimchi.
For a special treat, try the current board special. It could be adobo from the Philippines one week or Southern barbecue the next. A local produce delivery might prompt a gourmet mushroom stir fry with udon noodles or dumplings in a ginger lemon broth.
Peecoon was born in Thailand and her cooking has been influenced by her family, her travels and her culture. She describes Battle Creek as hard-working, tenacious and diverse. 
"I'm proud of the customers because they're giving my food a chance," Peecoon said. "They're embracing the food, and therefore they're embracing the message of cohesiveness and culture."
Sit down and join our community at the table.
ADDRESS: 215 W. Michigan Ave., Battle Creek