Battle Creek's National Cereal Festival is coming up on June 9! Before you come to the festival, there are some fun facts you should know about cereal and its unique history in Battle Creek. You probably know that cereal was invented here, but do you know any of these facts?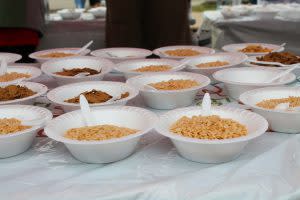 1) Cereal was invented by accident!  W.K. Kellogg and J.H. Kellogg invented it in the basement of the Battle Creek Sanitarium, now the Hart-Dole-Inouye Federal Center
2) The original flakes were made out of wheat until 1906 when W.K. Kellogg discovered how to make cornflakes.
3) Kellogg Company was originally called the Battle Creek Toasted Cornflake Company.
4) At one point there were over 100 different cereal companies in Battle Creek. Now there are only three: Kellogg's, Post and Ralston Foods.
5) Starting out, Post actually had better sales than Kellogg's due to Post's belief in advertising.
6) On a good day you can smell cereal in the air in Battle Creek.
7) Tony the Tiger was created in the 1950's to promote Frosted Flakes on television.
8) W.K. Kellogg's house sits in Kellogg Park in downtown Battle Creek. You can tour it by appointment.
For more fun facts on Kellogg's, click HERE. For more fun facts about Post, click HERE.
National Cereal Festival is on June 9, 2018
*Originally posted on June 6, 2017