BATTLE CREEK, Mich.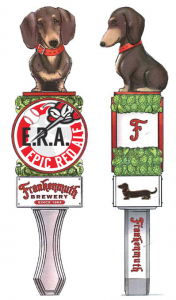 – The Battle Creek Bombers, home of the Twinkie Dog and Poptarko, are at it again with its 2016 menu additions. Cheboygaroni and Cheese and, for the first time, a Bombers-inspired beer, Frankenmuth's Epic Red Ale (E.R.A.) will debut during the Bombers' tenth-anniversary season. Cheboygaroni and Cheese is Cheboygan beer-infused macaroni and cheese served inside an orange peel bowl. Bombers chefs will use Cheboygan Blood Orange Honey, a wheat beer with local wildflower honey and blood orange zest and puree, to create the citrusy sweet cheese sauce. Cheboygaroni is served in a fresh orange peel bowl with a balsamic vinaigrette drizzle.
"Cheboygaroni and Cheese is another great addition to our tenth anniversary menu. Not only is it unique, but it uses products from Michigan and absolutely screams summertime," said Bombers General Manager Tony Iovieno.
For the first time in Bombers history, the team will offer a branded draft beer: E.R.A. The name, a derivative of baseball's term "earned run average," stands for Epic Red Ale. Frankenmuth Brewery, the oldest brewery in Michigan, produces the beer. "E.R.A. is also brewed right here in Michigan and has a great refreshing flavor I'm sure our fans will love," Iovieno said. E.R.A. is a balanced red ale, with toasted malt characters and a light fruitiness. The beer will be available on draft at local bars as well as at C.O. Brown Stadium.
The Bombers will begin its tenth season of play in Battle Creek on May 31, 2016, as the Battle Creek Bombers play host to the Madison Mallards.