Leave your cares at the door of Bread & Basket in downtown Battle Creek.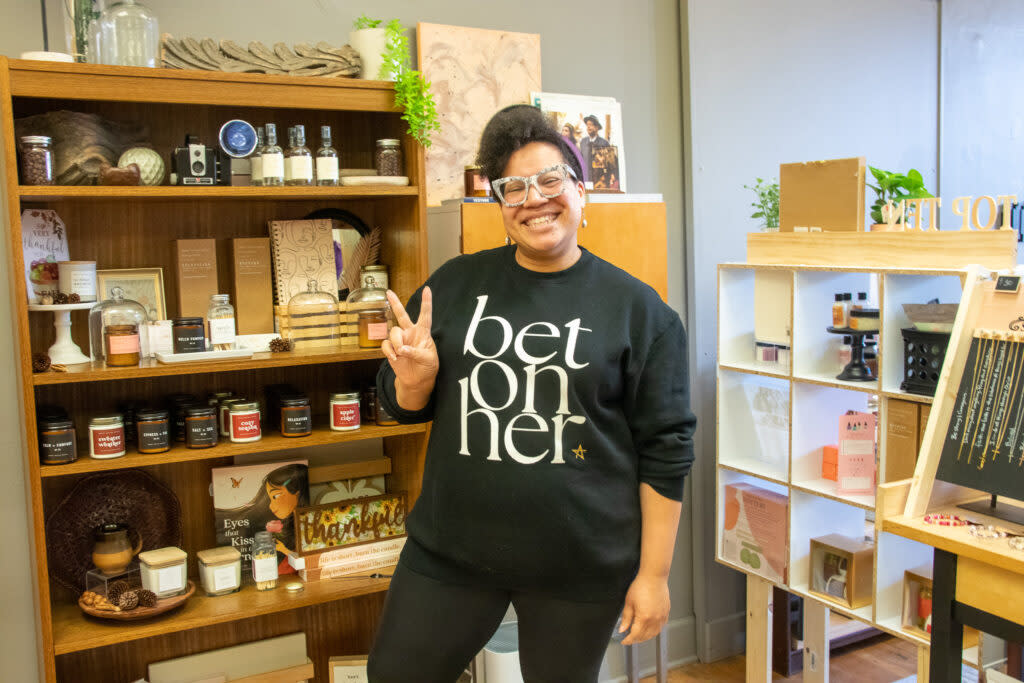 Owner Tiffany Blackman brings her hip sense of style to a boutique and public market that celebrates small business.  
While products come from all over the United States, it's also the place to go for local goods. 
"I'm definitely on a mission to offer more hometown things," Tiffany said. "I have several customers that come in and their children have moved away and they want them to have a piece of home. Or even when you're here, you want to rep your city." 
The store sells all-natural bath & body items, specialty foods, housewares and gifts. Lotions, body butters, scrubs, lip balms, hair pomades, oils and beard balm are all made by hand from here in Michigan. 
Tiffany spoke with us about new items, small businesses as resource centers and voting with your dollar. 
How would you describe your business? 
I always tell people it's a boutique-style public market...it's something very special and unique to our city.  
What about the public market part? 
A public market feels like a very unique indoor location that operates year-round for multiple businesses. You know, they share a space. And I think right now -- more than ever -- it really, truly feels like that here. Now that Grassroots is here with the refillables, and I'm consigning for Little Quiet Coffee Co. I'm also consigning for several women-of-color-owned businesses, like the Blair Necessities, the Perfect Pucker. And it feels really good 'cause it's getting closer and closer to that concept of a public market, where you have those owner-operated stalls or individual shops. 
So then what's your role as the market master? 
There's a lot of relationship building, which I love. I love those one-on-one conversations with entrepreneurs and talking with them about pricing and making sure everything looks good on the shelves 'cause there's definitely that standard. And I'm also in charge of curating everything that you see in the shop. 
My body butters are coming from Flint, Michigan. I have beard oils and balms coming from Kalamazoo, lotions from Kalamazoo, hair oils from Battle Creek. I have stuff coming from all across the US. It's really cool, it's stuff from small business brands that are small batch, they're hand-making and pouring items. But it's my job to curate and make sure that all those products are good and then offer them out into the community. 
As a consumer, what do you think is the advantage of buying small business? 
There's a lot of statistics around it, why people should shop small. Those dollars stay locally in their community. I mean, you come here, you buy something from Bread & Basket; 30 minutes later, I go buy a coffee from Cafe Rica; Cafe Rica then spends their money for a local roaster. It cycles back into the community, it's the most beautiful thing, economically.  
I think it's like up to 70% of it stays in the community and cycles. Plus, you're literally building your community, the things that you want in your own backyard. You're building that by supporting small businesses. And that's what I keep telling people. I'm like, 'Your dollar is a vote, you get to vote with your dollar.'  
I think the advantage, especially of your store, is that coming here you're not only shopping, it feels like an experience. 
Yeah, that was purposeful. There's a lot of intention behind what we do. I want people to walk through the doors, I want them to lay down the cares that they brought from work or from home and actually relax in this space. I know that when people think shopping, they don't automatically equate relaxing to shopping. But that's what I want this space to feel like.  
And there's so many connections that happen here. It is so amazing to see. I've had new folks that are moving to Battle Creek for the very first time coming here, shopping and asking things like 'Oh well, where's the best place to eat? Or where can I get my car fixed,' all these different things. It's a Resource Center and that's the part that most people don't see. 
When it's small business, it's how are you connecting people. It's not just connecting them to products, you're connecting them to each other.  
That's been an unexpected element of the experience that I've really come to enjoy.  
For holiday shopping, people can do their own shopping or you curate gift boxes as well. 
I carry gift boxes, gift baskets, gift bundles, corporate gifts. I did probably about, oh gosh, about 100 corporate gift boxes last year. This year I have already done 300.  
They needed me to curate the products for them and that has been amazing to see. And I need more. I need more corporations to be like, you know what, we're buying holiday gifts, so we might as well buy them local.  
Do you have any new things in that you'd like to highlight? 
Specialty foods is one of our categories. I have some breakfast bundles which I'm super excited about, 'cause it's pancake batter and peach cobbler syrup, which you are not about to find anywhere else. I had to do a lot of digging. But it's so yummy, oh my gosh.  
Probably the highlight is my self-care bundles. The self-care bundles are like my Try Black boxes last year, they highlight the makers. So it's a body oil, body scrub, body butter all in one package (not mixed together).  
Can you tell me about the refill...what is it called? 
It's Grassroots Refillery. 
We've just partnered with Grassroots Chiropractic to offer the community a refillery station. It's a pop-up. It's a test to see if the community really, truly wants something that they feel is a gap in the community. 
A refillery is just trying to minimize your waste as a citizen and you're saving from plastic usage. You're refilling bottles with hand soaps, dish soap. We have multipurpose cleaners -- these are all-natural cleaning products that take away the toxicity you're bringing into your homes. And so yeah, we're super excited about it. Laundry pods, dishwasher pods, toilet cleaning tabs, lots of cool stuff that we have to buy anyways -- but the issue is that we're buying stuff that has a lot of chemicals in it.  
And that's part of my mission, too, with offering bath and body products, is that I buy all-natural bath and body, so it made perfect sense to now go into more home goods. 
I have noticed a couple things that have a Bread & Basket label on it. 
Yeah, that's newer. I knew, when I started this business, that being a creative I would have some opportunity to make things that I would like to offer the community, as well. So we have some branded candles now, some branded room sprays.  
How would you describe Battle Creek culture? 
The type of culture I want to uplift about Battle Creek is the type that cares deeply about community. We care about each other. You know we want to see each other thrive. We want to create good jobs, livable wages. We want to create a fun environment where we can live and work and really enjoy -- like we have so much beauty here, so much beauty between our waterways and trails and nature. Not every city can't say they have what Battle Creek has.  
I just think that there's such a beauty in uplifting that and having people be able to say, 'Yeah, we got this really awesome shop downtown, that I can go down there and get what I need for gifts or something for myself to just have a little me-time. Same thing as with the restaurants, being able to say we have really good food options in Battle Creek -- and no one should sleep on that. There's a lot of hard work that goes into building these businesses and offering these things, and I want to help uplift that always because it's a blessing to be able to be in this city where we can say these things.