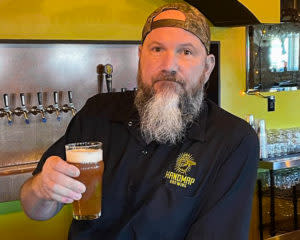 Chris McCleary plays with flavor the way a concert pianist plays piano. At Handmap Brewing Co., you'll find a wide range of flavors in the beers, seltzers and ciders –- everything from a light golden ale to a barrel-aged imperial stout with cherries, toasted coconut and cinnamon.
Flavors can be smokey or citrusy or tart. The popular beers are made with blood orange, cherry or raspberry -- although a juicy plum kettle-sour brew is creating a splash right now.
All of the fruit comes from Coloma, Michigan. "We don't use any extracts or essences in the beer," McCleary said.
There are no shortcuts. The key to using fresh ingredients is finding the right balance for the taste buds. Take the Plum Sour, for instance. The kettle sour beer is fruit-forward. But because plum leans into sour, it pairs better than a discordant sweetness and the malt bill gives it a backbone.
Of course, the flavor mixture people around Battle Creek like is the Two-can. It plays on the area's cereal history by flavoring an IPA with Froot Loops. When they brew it, there's a sweet, hoppy smell around the building – which is only a block away from Kellogg World Headquarters.
"I think it's popular because of the neighborhood we're in," McCleary said.
While at Handmap, you should try the OTIS. It's a beer that can appeal even to wine lovers. McCleary made it with a buddy and former co-worker. They dreamed of a brew that used all of their knowledge and memories from working together at Goose Island.
"This beer is that project, an accumulation of our thought process," McCleary said. 
The end result is a multi-dimensional beer, a symphony of flavor that encapsulates a love of brewing.
ADDRESS: 15 Carlyle St., Battle Creek