If you look up the Georgia Peach Burger at Suns Out Buns Out, you're not going to find any other hamburger with the same flavor combination. 
It has caramelized peaches, brie, bacon, arugula, onion and cherry jam – the burger is sweet, smokey, salty, meaty and a little sour all at once. 
The unique menu at Suns Out Buns Out earns the moniker "not-so-ordinary burgers." Derek Sandmire co-owns the restaurant with his wife, Sara, and they started with a simple concept: burgers and fries. 
But even the hand-cut French fries get a kick with loaded flavors, such as Parmesan sauce, shrimp, bacon and sausage. The fries themselves are made with kennebec potatoes, great for the double-frying process. 
The concept for Suns Out Buns Out began on the move – the Sandmires bought a food trailer in 2021 and then brainstormed new creations on a train trip from Battle Creek to Chicago.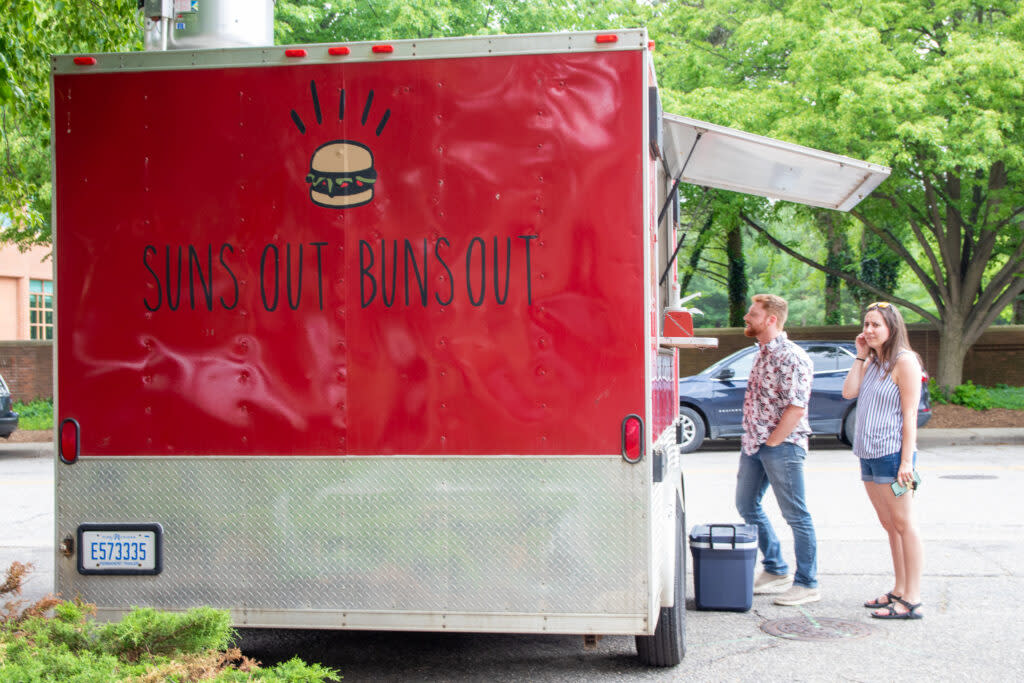 A brick and mortar restaurant wasn't in the plans, until they heard of a quirky space below a flower shop.  
The building's owner is an artist, and his pop art brings color to the restaurant. It's like stepping into a paint box. And if any of the work catches your fancy, you can buy it off the wall. 
The menu is as creative as the art. Derek is the one behind the grill, and he says it can be hectic, juggling burgers and toppings. But the unique taste is worth it. 
Check the weekly specials to see what Derek is currently experimenting with. It could be a pizza burger, with pepperoni toppings and hot honey, or a French dip sandwich combined with a burger. 
"In the summer, we'll do more burgers with fruits and stuff on it, we have a blueberry burger we do and something like pineapple," Derek said. "In winter, we do more hearty burgers. Burgers with brisket on it, pulled pork, the pizza burger." 
Burgers and fries are still the foundation of Suns Out Buns Out, but they've also expanded to chicken sandwiches, hot wings and appetizers such as fried pickles.