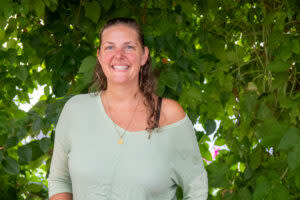 Bridgett Blough runs Of the Land in Battle Creek with her husband, Trent Thompson. 
While Trent grows the farm, Bridgett makes the food for catering and events. Combined, it's a unique space that can be used for weddings, family reunions or anytime you want to have a meaningful gathering. 
Bridgett offers true farm-to-table dining, with 90% of her ingredients coming from Of the Land or other local farms. 
Connecting with the land is the goal. We caught up with Bridgett the day after a meet-and-greet event for Realtors and their clients, where she saw kids picking strawberries in the garden lounge and couples exploring the zinnia labyrinth or sit in groups while sipping drinks from Dotty, the vintage camper that has been turned into a bar. 
"The thing that people really took away is the beauty of being in nature and being outside and that is really, specifically what Trent and I are trying to inspire people with, is the beauty of nature, specifically from our land." 
If you have no event planning on the horizon but want to check out the space, there are some curated experiences open to the public. Order a Green Box that can be picked up on Wednesdays. Stretch yourself with yoga in the greenhouse on Wednesdays. Or celebrate the fall harvest on Sept. 25, with lunch, a coffee bar and u-pick pumpkins and sunflowers. 
How do you describe your business? 
Trent and I are co-owners and for us, Of the Land is about the beauty and the bounty of the land and sharing it with our community. So we share it with our community in a real physical way with our Green Box, which is like our local produce box. And it has some of our kitchen's prepared foods.  
And then in the events business, it's really about creating spaces for people to come and be in nature. Because for Trent and I, we live here, so we hear the birds every day, and we see the flowers every day. So the events business is about really opening up our lands to the community.  
We have a public event every single month, where we open up and people can come. And then we host private events every week, mostly weddings, but we also do other events here as well. 
For the public events, is that only in the farming season, or is that even in winter?  
So we haven't, due to the physical limitations of the weather, we haven't done anything before April and anything after November.  
But last year, we held a private friends and family event on the winter solstice in December in [the greenhouse]. And it was amazing. So we are contemplating that currently, like how deep into the holidays we can go…So visually, the apex of the space is September.  
What is your favorite spot here?  
I love our garden. And our garden is a 4,800 square feet, outdoor patio with edible plants, native plants, fruit and veggies and herbs. 
When I stay in the garden, I feel like I'm in another world… The garden for me feels like a lot of West Coast influence and European influence. And both Trent and I love to travel. So I feel transported to another place. I do not feel like I am in Battle Creek, Michigan, when I'm in the garden. 
Besides the plants, what else is there?  
So there's propane fire pits and there's hammocks and lights. And the seating is also intentional, to make it feel like you're sort of in an outdoor lounge. 
Do people use it as an extension of the event greenhouse?  
Sure, that was really one of the best things. As an entrepreneur, we have these visions and 
watching people use the space how we envisioned it, it is always great when that works out, because sometimes our inspirations don't lead to this. 
It's very social. And the idea is that there are these little enclaves, where you can be in a group of people that have a quiet little corner to chat. So it's designed to have an area where eight people could sit, where maybe two or three people could sit, or five people can sit, so you could go into a smaller group and have a little bit more intimacy in different locations than the greenhouse venue, which seats up to 150 people.  
Typically, people use the venue for more of sitting down and eating. And the garden is like where people hang out, when they're not ready to really sit down and eat, but they want to hang out and sit and relax. 
Would you say you are wedding exclusive? Or do you have different kinds of events here?  
Yeah, we have all sorts of events. Last night, we actually had an open house, a group of Realtors rented it out. And we served hors d'oeuvres, and we had a bar. And then we had the espresso bar. And it was just like an open house meet-and-greet for their clients and customers. So the space is really flexible and really functional, where people can walk around and hang out.  
And there's so much green space, and there were children running down the hills. There were people that just probably sat in an office chair all day and they walked all the way out through the apple orchard, they walked down to the flowers. So the space really lends itself to families, to large groups, and there's a lot of space and a lot of things to do.  
What do you think is the key to a successful gathering? 
I would say for me, I'm completely biased, but I would say there has to be at least one really good thing to eat.  
And there's something for everyone, so the kids were really excited about the peach fizz [take local peaches and cook them down with vanilla paste and cinnamon and then add sparkling water to it] and the cookies. And maybe a 70-year-old guest was excited about the strawberry bars and the charcuteries spread and the teenagers there were excited about the cornhole. 
How does nature play into the food that you serve here?  
So we are, because our commercial kitchen is actually located on the farm, the quintessential farm-to-table situation. A lot of our produce is grown here on the farm, but it's not exclusively grown on this farm. And a big part of our Green Box is we support 30 other small farms and artisans. 
So it's not just about our farm, it's really about lifting up the other farmers and producers in our area. And nature is what inspires everything that we serve. So from a week to week basis, what we serve is changing depending on the produce available.  
I really feel like, for me, the foundation to the kitchen is supporting local farmers. So we always start with what we have in season first, and then we build our menus up from there. And that's probably the thing that makes us the most unique as well. 
As a chef, do you think that makes the food taste different?  
I do. A lot of our offerings are not very intricate or complicated. 
And it can be simple because every ingredient is spectacular. You can't have simple food like that and have it taste really great with rockhard tomatoes from California and pre-minced garlic out of a jar. 
So I would definitely say that it comes through in the way the food tastes but also the way it feels after you eat it. 
Our target is that it's really satisfying and it feels nourishing, it feels good.