Published in Scene Magazine Issue 44-06 1) Walk your dog The 5.3 mile Calhoun County Trail is perfect for your four legged friends. Be kind to other trail users and scoop the poop.
2) Throw a party in the park! Did you know you can rent the Historic Bridge Park pavilion? Just call 269-781-0782, at $50 for 4 hours, it's the best deal in town.
3) Play disc golf The Kimball Pines 9-hole disc golf course was reopened last year. Volunteers contributed over 600 hours to bring the course back to life.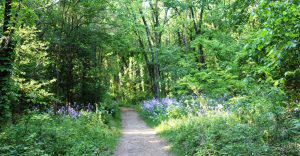 4) Explore the woods Trails within Ott Preserve traverse a diverse habitat of eskers, wetland, lakes, and streams. Encounters with wildlife are common in the preserve's rich ecosystem.
5) Kayak the Kalamazoo A boat launch in Historic Bridge Park can take you into to Battle Creek in approximately 2 hours, or begin upriver in Marshall, Michigan for a 4-hour float.
6) Get out your phone Discover something new with a great nature app! iNaturaulist can automatically identify plant species with the click of a photo. Are birds and insects more your thing? iBird and Butterfly Collection are great too.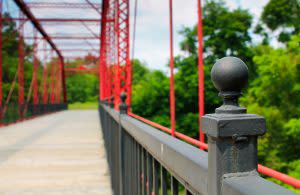 7) Go back in time Historic Bridge Park is home to five historic road bridges that have been restored and relocated in the park. They feature a variety of truss designs and manufacturing techniques dating back to the late 1800s and 1900s.
8) Run and bike The Calhoun County Trail is perfect for running and biking too. Many early risers are at the park at 5:00 am and multiple running clubs use the trail year round.
9) Go the distance Avid hikers can use one of Calhoun County's Parks to connect with the North Country Trail. The trail follows the Calhoun County trail, Battle Creek Linear Trail, and then heads north out of Calhoun County. Keep going (and going) and you will eventually find yourself in North Dakota!
10) Explore it all! There are great parks throughout the county in Marshall, Battle Creek, Albion, Homer, Springfield, Pennfield and beyond! Make sure to get outside and explore some of the 80+ parks throughout the county this summer
Learn more: Website: www.calhouncountymi.gov/government/county_departments/parks_and_recreation/ Facebook: www.facebook.com/CalhounParks/