So, you've got a van full of volleyball players or a hotel room that smells like baseball equipment. 
Everyone needs to eat and you're not sure if there's anywhere in Battle Creek that can handle a group of tired and hungry athletes.
May we suggest pizza? It's delicious, it feeds a crowd, you can order ahead, and sometimes the pizza dude will come to you.
Here are some Battle Creek favorites: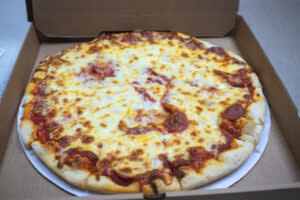 If your team is playing at Bailey Park, you might have already noticed Pennfield Pizza. It is half a mile away, within walking distance or a minute by car.Locals rave about the pizza crust, and that includes gluten-free options. The menu also has one very un-pizzeria item -- the wet burrito -- which gets good press.How to get it: Take out or sit down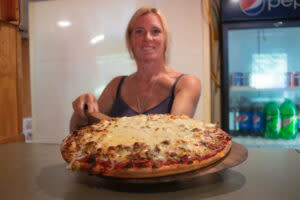 Steve's Pizza is usually take-out only, but last year they broke that rule and the story made national news. Manager Dalton Shaffer drove all the way to Indianapolis to deliver a pizza to a cancer patient in the intensive care unit, according to the Battle Creek Enquirer. You'll have to pick up your pizza yourself, but this pizzeria is a favorite for many locals. Try the "Brick," a satisfying pizza with sausage, hamburger, pepperoni, ham, bacon and extra cheese.How to get it: Take-out only
If you're the type to leave uneaten crust in the pizza box, try Sir Pizza. It's 100% toppings, right to the edge. Each pizza is cut up into little squares, which makes it easy to share.Sir Pizza's specialty is the "Royal Feast," topped with pepperoni, sausage, mushrooms, onion and green pepper.How to get it: Take out or sit down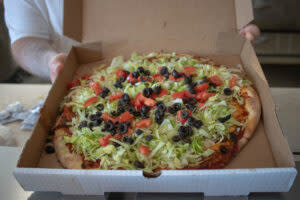 Pizza Sam's has been slinging dough for decades. And when we say slinging dough, we mean that literally -- watch the cooks toss dough into the air while you wait, or play on the arcade games by the door.Try the BBQ Chicken pizza, with mozzarella and cheddar cheese, chicken, onions, barbecue sauce and some jalapeno peppers for kick. How to get it: Take out or sit down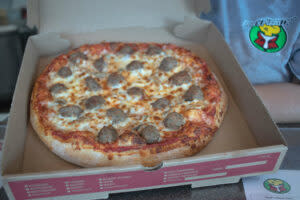 If you're trying to feed an entire team, consider "The Big One" at Fox's Pizza Den. It's 30" round and has 52 slices. That's enough pizza for about 15 regular people, or maybe about five teenagers."The Big One" needs to be ordered 24 hours in advance. How to get it: Delivery, take out or sit down
**This article was written by freelance writer, Annie Kelley.