*Originally posted on On The Ground Battle Creek.
To describe Leila Arboretum as a city park is like saying that the Eiffel Tower is a sculpture.
The 85-acre property located near the west entry point to the Urbandale neighborhood in Battle Creek may have started life as an arboretum and garden, but its root system has spread to include attractions such as a Fantasy Forest, Kaleidoscope Garden, and one of the area's most challenging disc golf courses, in addition to events that have community-wide draw like the annual Festivus Cardboard Sled Race and the Leilapalooza Music Festival.
These enhancements have added to the landscape while maintaining the integrity of the more than 25,000 trees, shrubs, perennials, and annual plantings that are at the core of the arboretum's existence, says Brett Myers, Leila Arboretum's Executive Director.
"We've gone from back in 1998 when we had a visitation of about 30,000 to now we see over 80,000 visitors annually coming through the property," Myers says.
On any given day, he says, he can see a number of out-of-town license plates in the parking lot as well as area residents walking, jogging or taking in the well-maintained plantings. Not surprisingly, he refers to the arboretum as the "Battle Creek's west side jewel."
While the natural settings, rolling hills, and one-mile paved loop keep people coming back, Myers said the Fantasy Forest, which fronts the arboretum along West Michigan Avenue, is easily the biggest draw right now. The forest of trees that were damaged by the Emerald Ash Borer  features 26 uniquely carved sculptures, half of which are trees still standing on their own root system. Visitors who review it on Trip Advisor have given it 86 percent excellent to very good ratings.
"This does not exist anywhere else in the country that we're aware of," Myers says of the Fantasy Forest.
Leila Arboretum brought in wood carvers to create the sculptures during two festivals in 2015 and 2016 and the trees have been drawing fans ever since. The development of the Fantasy Forest is but one example of the creative thinking that has become a critical element in the overall strategy to grow and maintain the arboretum's presence in the community and beyond. The creation of the disc golf course was an outgrowth of that ability to think outside of the growing box.
Chad Curtis, who was born and raised in Battle Creek, had already designed disc golf courses at Irving Park and Fort Custer Recreation Area when he was approached by board members with the Leila Arboretum Society to install a course on their property. Curtis, an avid disc golfer since the 1990's, says he always thought the arboretum was one of the area's most appealing properties for the location of a course.
"We started a good relationship with the city's and parks department at Irving Park when we started that (course) in 2008," Curtis says. "As we got going and established a track record we had the idea to put one in at Leila. We actually walked through the park with Leila board members and showed them what we wanted to do.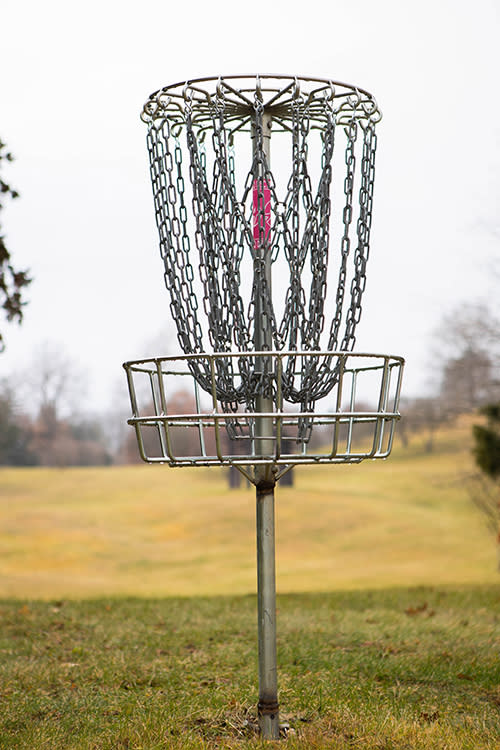 Curtis and a team of volunteers began work on the course in 2014. Funds to cover the $16,000 cost to build the course came from the Battle Creek Community Foundation, the Miller Foundation, corporate and individual donors.
"It was a very slow process," he says. "With other properties that we've used, we've been given free rein to cut out trees. Leila was a tree museum. So, instead of going through with a chainsaw, I like to say that we used a scalpel."
By design, the disc golf course is one of the most challenging courses in the area. And based on feedback he's received, Curtis says it is.
Not by design is what the presence of the course has done to root out some of the more unsavory activities that used to be commonplace at the arboretum.
"It's a hilly property with private, hidden spaces that enable folks to get away from prying eyes," Myers says. "Installing a disc golf course in the back part of the property has displaced that activity. It's hard to do bad things in such a public place. By having so many more people here for the right reasons, it's displacing that nefarious element."
However, there are the random occurrences of these shenanigans including vandalism that took place two years after the disc golf course opened when five of the 18 baskets were stolen. The baskets cost $450 a piece and left Curtis wondering if replacing them made sense. Myers and others stepped in to pick up the replacement costs.
Curtis says the overwhelming majority of disc golfers are respectful of the course.
"We were really concerned about that," he says. "A lot of courses around here are one-and-a-half miles. Leila is three-and-a-half miles because we wanted to dedicate it to serious disc golfers."
Because the course, like most other attractions at the arboretum, is volunteer-driven, Curtis isn't able to quantify the number of users, but he is able to say that many of them are younger and that's an audience Myers wants to attract.
"It's definitely not the most used course in town, but it has brought in a younger audience and young teenagers are starting to get into it," Curtis says. "Disc golfers do travel to check out a different course or two and they will spend their money at local restaurants."
Becoming a destination that brings in people from outside of Battle Creek is an important element for the arboretum which relies on an annual budget of $400,000.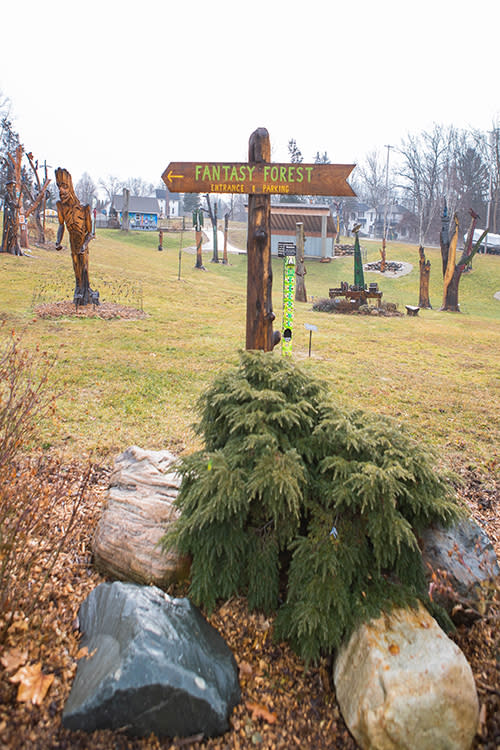 Unlike venues such as Meijer Gardens which charges an admission fee, the arboretum cannot charge fees because of deed restrictions set in place when the land was donated to the city by the late Leila Montgomery Post, wife of breakfast cereal magnate, C.W. Post. She purchased the property, which formerly housed a country club, and donated it to the city in 1922 with a directive to have it laid out and improved as a public arboretum.
"When she gave the property to the city it was with an agreement that it has to remain free and open to residents of Battle Creek and beyond," Myers says. "Previous leaders of the arboretum had to lobby the city to charge for parking at Leila at a time when there was no revenue at all. It's not an option at all for us to put up a gate."
Even if a gate were possible it would be unlikely to make a difference in the arboretum's bottom line. "Gate admissions aren't very much of an annual operating budget for botanic gardens around the country. It's donors and supporters, where they're really finding the funds coming from."
Montgomery Post's gift was part of the larger vision of Edward M. Brigham who started planning an educational campus consisting of a museum, a historical building for the Battle Creek Historical Society, a fine arts building, a hall of music, and a lyceum (lecture hall) building. Additional land was donated and the combined property, which became known as Leila Arboretum, was designed and developed by T. Clifton Shepard between 1924 and 1930.
The Great Depression overshadowed the original plans and the gardens fell into great disrepair. They were finally revived in 1982 by a band of volunteers who formed the Leila Arboretum Society, a nonprofit.
"A grassroots group of Battle Creek citizens, volunteers and the director of the Kingman Museum got together and began an effort to restore the arboretum back to the level of care it required," Myers says.
The nonprofit Leila Arboretum Society was incorporated in 1984 and this was the start of a public/private relationship with the city that allowed for paid staff to manage the arboretum. Myers said the arboretum receives about $75,000 annually from the city which also contracts with the arboretum to do beautification projects downtown.
Grants and gifts from businesses and individuals make up the remainder of the budget.
Myers says Montgomery Post envisioned that the arboretum would eventually grow to 1,300 acres and become the cultural center of Battle Creek beginning with the construction of the Kingman Museum of Natural History on the property and other culturally-based entities she thought would locate there.
"From the mid-1930's until the mid-1980's, the property was not managed as an arboretum, but rather as just a typical public park," Myers said. "The management of the trees and shrubs and doing the planting required a higher level of care. These were actual collections and thousands of trees were planted."
But, Montgomery Post's donation did not include funding to run the facility.  "We don't have an endowment. Leila Post did not leave money for that," Myers says. "The more substantial botanic gardens have major endowments that allow them to operate on a larger scale. We're a very frugal operation."
Ted Dearing, Battle Creek's Assistant City Manager, says city leaders are aware that the arboretum is a big piece of property to maintain. Dearing says the amount of money the city has been able to give the arboretum as fluctuated and has been reduced from what it had been in the last 20 or so years.
"We'd like to be fiscally in a better position to support the Leila Arboretum Society more," Dearing says. "If we can continue to grow as a community, it will put us in a position to be able to do that. They will be able to generate income through programs and activities and receive more funds from us to support what they're doing. Long-term, that's what we want to do."
Myers says the ongoing need for funding is why he supports the sled races, concerts, and other events that bring new visitors to the arboretum.
"Our sustainability is better achieved by expanding our arms more widely, by offering music and arts in a broader sense," he says. "If we have people come out for rock concert or a symphony quartet, they actually see what we have here.
"We'll keep plugging away. We went from hosting four music events in 2017 to eight in 2018, all the while being mindful that we're an arboretum first."
Myer and his staff of 2.5 are working with a group to host a 5K Color Run this year while continuing to spearhead 365 Urban Farm, a working farm that sells and donates produce as it offers educational programming. Their Kaleidoscope Garden provides outdoor hands-on learning for youth and in 2018 more than 11,000 school-age children participated in programs and events that were offered.
A team of more than 100 regular volunteers support the paid staff by doing tasks such as parking cars, pruning trees and plants, assisting with youth education programs, and picking up trash.
Despite funding and manpower issues, a substantial amount of infrastructure has been added including the Fragrant Hill Pavilion modeled after an actual park in China named Fragrant Hill. Myers says the pavilion's major donor asked that it be painted red to more closely resemble the one in China.
There also is a greenhouse and Horticulture Training Center where members of the Battle Creek Bee Club and Master Gardeners meet. "Everything that you see out here, other than the house, we're in, has been done by the Leila Arboretum Society," Myers says.
But, there is more that can and should be done and Myers has a wish list that grows daily.
"We're probably at a point now where we should have a visitor's center of some kind and space that enables us to host wedding receptions which could be used for educational programming during the off-season," he says. "We know the cafe and restaurant business is tough in its own right, but we think we could have something that could work well with the farm here with a demonstration kitchen where you could see the fruits and vegetables harvested and cooked.
"It's all about leveraging how great this property is and finding ways to get people here."