Not long ago, we asked Facebook to let us know what the public's favorite burger places were in Calhoun County. With our 175 responses, we got our answer! We went out and tried the top 9 places on the list. Here are your top burgers in Calhoun County.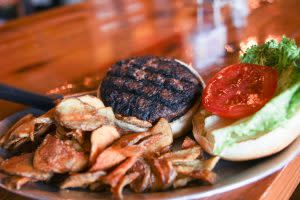 Territorial Brewing Company - Battle Creek The only brewery on the list makes a mean burger. The brewery specializes in German faire, so the burgers are different than most. We tried the Territorial Burger, which is made from ground chuck, brisket, and short rib meat. Each burger is served with german fries.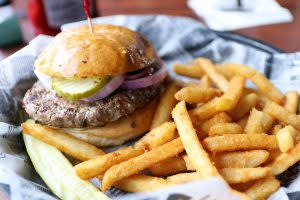 McGonigle's Pub & Grill - Battle Creek McGongile's serves up a delicious burger. We tasted the Pub Burger, a standard half-pound burger that was grilled to perfection. Worth mentioning is that the fries were delicious too! Here's a money saver tip for you, come in on a Monday and you get $2 off if you check in on Facebook. Show your server to get the deal.
Rendezvous Pub - Battle Creek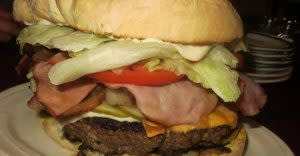 The biggest burger on our list is the Harley Burger at Rendezvous Pub. This burger is made of a 2lb hamburger patty, 2 ham patties, bacon, 3 cheeses, sautéed mushrooms, onions, tomato, lettuce, mayo, ketchup, pickles and mustard. All of this is put on a 9 inch bun. This monster burger is made for many, so bring your appetite!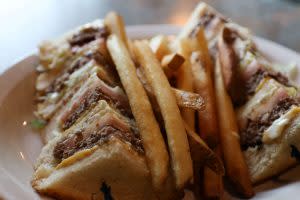 Moonraker - Battle Creek Representing both of the Moonraker's in town, we visited Moonraker West. We tried an untraditional burger, the Moonburger. The Moonburger is made up of two patties, served on Texas toast.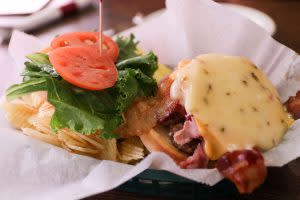 Miller's Time Out - Battle Creek I have heard people rave about the Miller's Time Out burgers before, and now I know why. We tried the Overtime burger, an amazing burger made with 3 cheeses, ham, bacon and BBQ sauce. Any burger can be made with a 1/3, 1/2, or 2/3 pound patty.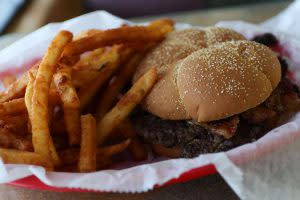 BC Burger - Battle Creek BC Burger serves up a delicious, classic burger and is pretty much made to order. The beef patty was grilled perfectly and is made right in front of you. They grill the bun to make it extra crispy. The fries served with it were probably the most crispy fries I have ever had.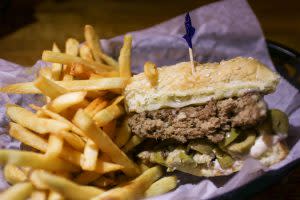 Mike's Place - Marshall Mike's Place is a Marshall gem. Located right on Michigan Avenue, Mike's Place serves many delicious burgers. We chose the Olive Burger and it was absolutely delicious.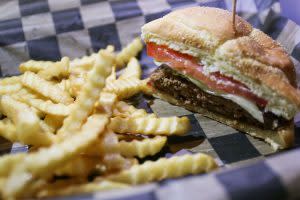 Stagecoach Inn - Marshall The Stagecoach Inn has been a staple in Marshall for many years. They serve classic burgers just how you like them cooked.
The Forks Sandwich Eatery - Albion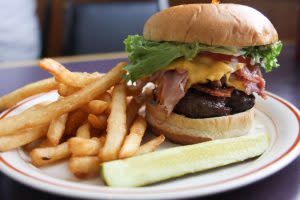 The Forks is a very new establishment here in Calhoun County and their food is absolutely amazing! We got the Avocado Club. The Avocado Club is a big burger made of a burger patty, ham, bacon, avocado, American cheese, lettuce, tomato and house ranch.
All of these places were great but their are many more great burgers in the County that we did not even try. Here are some of the honorable mentions, that got many public votes during our survey. 
Honorable Mentions: Barney's, Arlene's Truck Stop, Brady's Irish Pub, Corner Cafe, Figg's, Kate's Diner, JW Barleycorn's