Life has come full circle for Executive Chef Trent Mead. His love of cooking started with helping his mother in the kitchen. Now she visits his kitchen to pick up meals that have been inspired by recipes from her own family.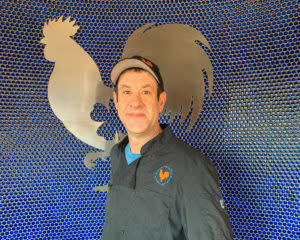 Lucky Rooster is a scratch-made Italian kitchen. In an age of fast food and convenience over taste, the restaurant specializes in upscale comfort food that starts slow – beginning with making the pasta dough themselves.
Trent likes working with his hands, creating dishes that bring instant gratification.
Like the five-cheese lasagna, which gets rave reviews. Or stop in for fresh fish, seared to perfection.
And what pairs better with Italian food than a glass of wine? Find a good deal on Wine Wednesdays.
"In Battle Creek, we really just wanted to give someone an honest plate of food for a reasonable price in a clean, fun atmosphere with an open kitchen," Trent said.
You can sit outside on the porch in summer or sip cocktails by the fireplace in winter. 
There's also seating where you can see the chefs at work, so pull up a chair to the kitchen table and watch your food be prepared.
ADDRESS: 1299 E. Columbia Ave., Battle Creek