Once January rolls around, we all feel like hibernating at home. But winter has its own pleasures. Like the Danish have taught us, it's a time to pursue hygge.
That means hot drinks, nature, books, sweets, blankets and a fireplace.
Gather your friends and loved ones for a cozy adventure in Calhoun County.
BATTLE CREEK
Once it snows, Binder Park Golf Course turns into a winter sports park. It's a good place for sledding, skiing and hiking with snowshoes. 
After spending time outdoors, enjoy a hot drink in downtown Battle Creek. Cafe Rica and Giving Cup serve hot chocolate, coffee and tea, while you can order a hot toddy at the Griffin Grill and Pub.
With its dark accents and cozy lighting, Handmap Brewing feels an Old World pub. Order a glass of wine or try the maple syrup brown ale.
Another way to keep moving is ice skating at The Rink. Check out the website for open skate times. 
Have dinner at Lucky Rooster. You can sit in front of the fire and enjoy a cocktail with appetizers or go for a meal inspired by home cooking.
MARSHALL
Get in touch with the natural world at Brooks Nature Center. The groomed trails are flat and good for dog walks, cross-country skis and snowshoes.
Quilts are double the hygge — it involves the slow, mindful process of making the quilt, and when you're done, you have one more blanket to keep you snug. Quilts at the Marshall House is a fabric store that has all of the supplies and expertise you need for your winter project. It's located at 100 Exchange St., not to be confused with the Marshall House Apartments.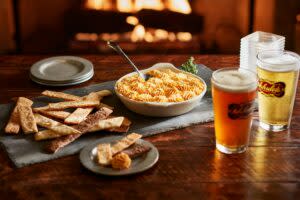 Get cozy in front of the fire at Schuler's Restaurant and Pub. In business for more than 100 years, Schuler's specializes in making you feel warm and welcome.
Built in 1835, the National Inn House is a Michigan Historic Site. Located in downtown, some of the rooms look out over the Brooks Memorial Fountain and many restaurants and shops are within walking distance. On the other hand, there's the newest bed and breakfast on the block: Villa on Verona has a modern sensibility with large beds and lots of pillows.
ALBION
Yellow Bird Chocolate Shop welcomes you with all the warmth of a cup of tea -- which is fitting, because tea is one of the many ingredients added to these craft chocolate bars. Try milk chocolate and cinnamon or chocolate with the smokey flavor of lapsang souchong tea, chamomile and nutmeg.

Buy a book to read, order a hot drink and settle down by the fireplace at Stirling Books and Brew. 
Take a tip from another cold country, Canada, and warm up your insides with potatoes and gravy. Albion Malleable Brewing Co. serves up a classic poutine, which has fries, white cheddar cheese curds and beef gravy.
Foundry Bakehouse and Deli has plenty of options, whether you're looking for a sweet treat or a warm toasted sandwich with soup. Or maybe celebrate the hygge spirit with a Danish pastry. And did you know Foundry has a weekly bread club? 
Right down the street from Foundry is Victory Park. The North Country Trail Association recommends this park for winter fun in Albion, including sledding, cross-country skiing and snowshoeing. 
Is there anything more cozy than cuddling with your dog? The Palmer House Inn is a dog-friendly bed and breakfast. Their hospitality includes a dog bed, treats and a water bowl.